A memorial to Petty Officer 2nd Class Jeremiah Stephen Adams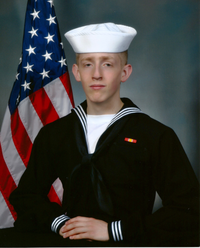 Mar 17, 1994 → May 4, 2018
---
Eulogies
From the USS Nimitz via Facebok
---
From Mikey Tito, via Facebook
---
From Kristi Nichols, via Facebook
---
From u/Zwilt via Reddit
On Friday, the 4th of May, EMN2 Adams of the Nimitz went on a hike and ended up not returning to work on the following Monday. Shipmates were concerned and alerted officials and a search started the next day. Unfortunately, Jeremiah was found this last weekend at the bottom of a ravine, dead from the 300 foot fall.
Hearing my RO relay this information to us was difficult. I personally didn't know Jeremiah so well, as I had only reported to the Nimitz after she was done with her deployment. However, I couldn't help shedding some tears in sympathy and empathy with what others were going through. The atmosphere was heavy and it was cold in the room at the time.
He was the Electrician to go to and had helped keep the plants running on multiple occasions. "He was living his life on his terms." "Jeremiah took Rickover's principles and applied them to his life." In essence, the kind of person we all look to as the example of what we should strive to be.
Overall, 3000+ man hours by the RX department were put in to search for Jeremiah on the mountain. It shows how much we care for one another.
This post is meant as a relay of information to any of you who knew Jeremiah either through the pipeline or served with him aboard the Nimitz. When there is a memorial service here in the PNW, I'd be happy to let anyone who wants to be there know.
Please keep Jeremiah, his family, and his friends in your prayers.
---